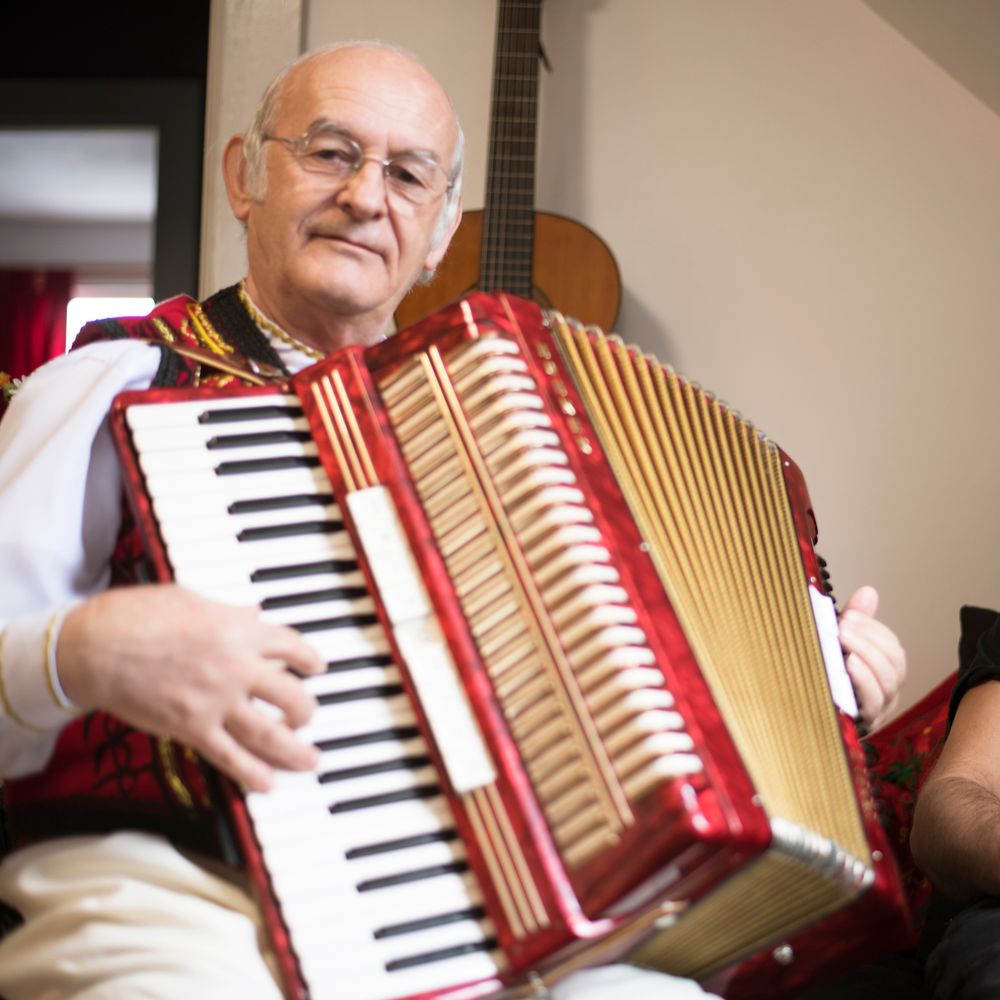 Ylli brekofca
Accordion / Vocals

Ylli is a true Renaissance man who always found ways of living an exciting, creative and courageous life! During decades living in communist Albania under one of the hardest dictatorships (think North Korea: So hard-core even the USSR had to cut ties with them for fear of what it would do to their image) He survived as a jack of all trades and spent his spare time traveling the country collecting folk songs... when he came to the US he had over 400 Albanian songs written down!
He always used his imagination and incredibly skilled hands to push the envelope of what could be done under a regime so strict that it even outlawed dancing!! ...Making vocal mics out of telephones taken from government offices to building the first electric guitar the country had ever seen! (A 10-string bouzouki)
Last but not least of his impressive feats was coming to live a life in the USA in his late 60s even though he couldn't speak a word of English!
In fact he didn't even bring his accordion thinking nobody would want to hear his Albanian repertoire in this country…
But we knew he was so wrong and found him one thanks to Jenny Van West and her organization: Immigrant Music Connection!
To Bondeko, Ylli contributes his decades of knowledge of one of the most intricate folk catalogues, his good humor and unparalleled stamina!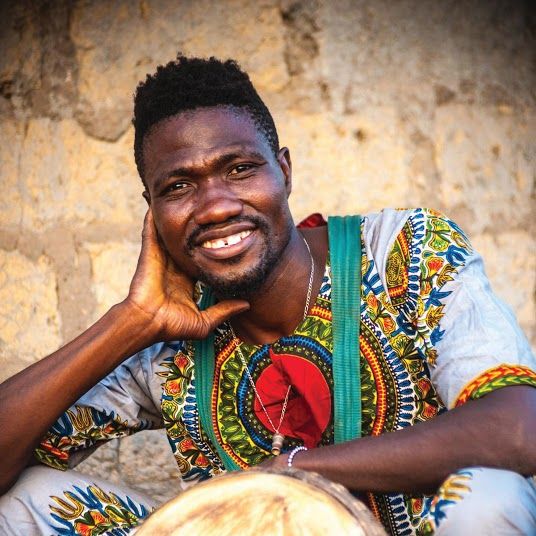 namory keita
Drums
Namory Keita, Master Drummer, is a sought after teacher and performer with a unique style and a wealth of traditional knowledge very rare to find outside the villages of Guinea! 
Namory Keita was born in 1982 in the village of Sangbarala, Guinea. At age 7 he began drumming, becoming the lead drummer for his village in 2006.
Members of his family are well-known drummers. His brothers, Solo Keita, living in Japan, and Nansady Keita, in England, grew up drumming with Namory under the tutelage of his uncle, Famoudou Konate, one of the most famous West African drummers in the world.
He is a featured artist on recordings by Solo Keita, Billy Konate and Diarra Konate to name a few.
As an international teacher and performing artist, Namory has been invited to many places to share his culture including Germany, Poland, France, Canada, and Portugal. Since coming to America in 2010, he has played with Famoudou Konate, Mamady Keita, Bolokada Conde, Moussa Traore, Mamady Kourouma and the list goes on.
Namory plays for the world renowned West African dance teacher Youssouf Koumbassa, the Kouraba Festival in Canada, Cirque Zuma Zuma, ILAP, and many other noted musicians and venues throughout New England and the US and abroad.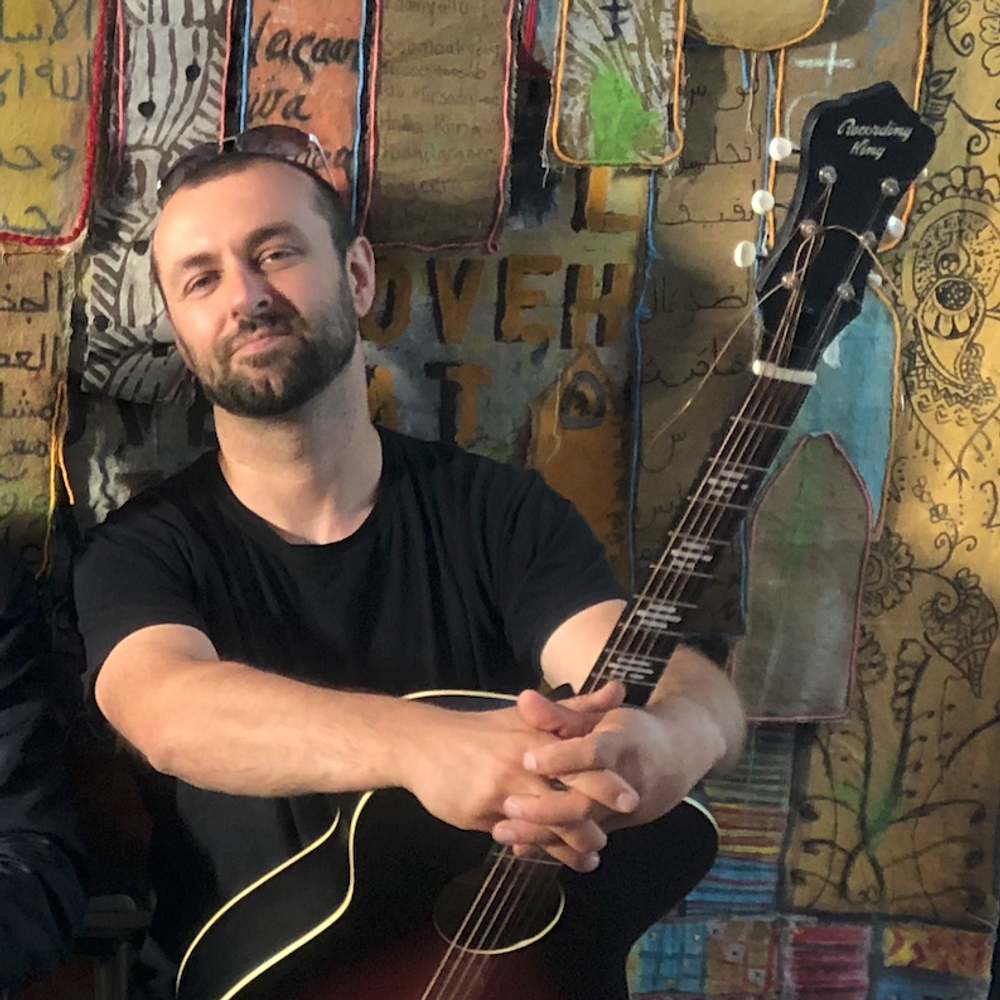 Orson Horchler / attila mendez
Vocals, guitar and percussion
Bondeko is the brainchild of Orson Horchler.
Orson, who goes by Attila Mendez for his solo work, is a singer-song-writer who grew up in the Northern suburbs of Paris. 
Some of the music that had the biggest impact on his musical inclinations as a child included:
His mother's obsession with the intense delivery of the likes of Little Richard and Eddie Cochran,

The grand and dramatic sounds of French crooners such as Hervé Villard and Michel Sardou he heard coming from a tiny mono AM radio that he won at a drawing contest and that somehow only captured that one station most popular with senior citizens!

The hypnotic grooves of Algerian Rai music heard everywhere in his neighborhood

3 Willie Nelson cassettes sent one Christmas by his American father and that he listened to hours on end, lost in intense visualization of what his life would look like once he made it to the USA…
Most of these visions included guitars, Harleys and Baywatch-like surroundings. Somewhat different from his life today as a community builder, immigration activist, running a construction business in Maine. But his lifelong musical dreams have no doubt far exceeded all expectations when he founded Bondeko!
Orson is a prolific genre-bending songwriter and producer. He is also a street artist whose work is focused on confronting xenophobia and the challenges to belonging; a consultant and public speaker on the topic of intercultural leadership and a carpenter, owner of a social enterprise hiring migrants.